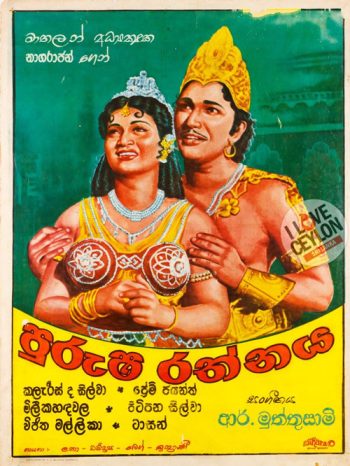 In 1898, a 55 foot long documentary titled Early Morning in the Ceylon was released by the Prestwick Company. This is the earliest known film about the island. The first private movie screening was held at Governor Joseph West Ridgeway's residence in 1901. An Englishman named Warwick Major introduced moving pictures to the public by screening Bioscope films in tents pitched in fields and open areas. India's Madan Theatre Company built Colombo's first movie hall in 1903 and achieved commercial success by screening popular Indian films.
Rajakeeya Wickremaya was the first non-documentary short film to be made in Ceylon. Filmed in 1925, the lead role was played by Dr. N. M. Perera, a future minister of finance and one of post-independence Ceylon's well-known socialist politicians.
In1934, filmmaker Basil Wright produced Song of Ceylon for the Ceylon Tea Marketing Board. It is considered one of the finest achievements of the British documentary movement. In all, more than thirty documentaries were filmed in Ceylon during the first three decades of the twentieth century. All of them focused on the islands natural beauty, wild life or the tea industry.
During the 1920s Hollywood talking pictures were popular with Ceylon audiences. However, by the 1930s, Indian films had surpassed English language films in popularity amongst the masses. In 1947, an Indian moviemaker named S. M. Nayagam produced Kadawunu Poronduwa (A Broken Promise) based on dramatist B. A. W. Jayamanne's popular play. This is considered the first Sinhala language full length film. Panned by critics for aping the South Indian musical format, Kadawunu Poronduwa nevertheless was popular with audiences. Following its success, Jayamanne produced a string of movies based on his plays, all of which followed the same Indian formula. Though commercially successful, these films did not contribute much in terms of artistic creativity.
However, in 1956, three employees of the Government Film Unit, Lester James Peries, Titus Thotawatte, and Willie Blake, broke away to produce Rekava, a serious drama that was in complete contrast to what was popular at the time. Although Rekava received widespread critical acclaim, it was a box office failure.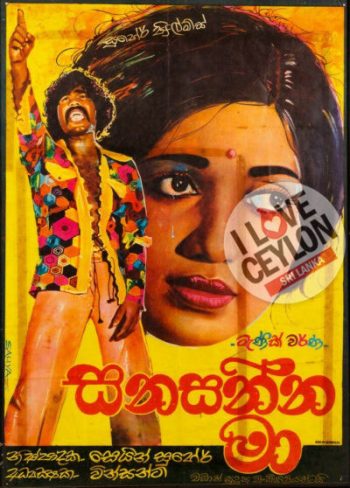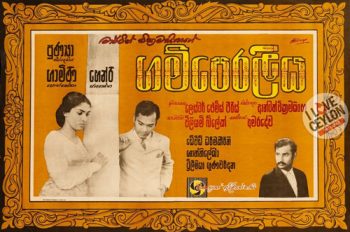 In 1963, Lester James Peries directed Gamperaliya, a novel by Sri Lanka's foremost author Martin Wickramasinghe. Considered the most important movie in the island's film history, Gamperaliya was a serious drama that achieved both critical and commercial success without having to resort to any of the formulaic elements of song and dance, comic relief or fight scenes. Gamperaliya was awarded the Golden Peacock Award and the Critics Prize at the New Delhi Film Festival and won the Golden Head of Palenque at the Mexico World Review of Film Festival. Gamperaliya gave Ceylonese cinema the gravitas it had previously lacked and proved that artistic cinema was commercially viable.
Due to the islands tropical beauty, Ceylon was also the location of choice for several Hollywood productions during the 1950s. Outcast of the Islands by Joseph Conrad, Somerset Maugham's The Beachcomber, The Purple Plain by H.E. Bates, and Elephant Walk by Robert Standish were popular novels adapted to the big screen and filmed on location in Ceylon. Unfortunately, none of these films enjoyed box office or critical success. All this changed in 1957 when David Lean's World War II masterpiece The Bridge on the River Kwai won seven Academy Awards including Best Picture, Best Director and Best Actor. To this date, this film adaptation of French author Pierre Boulle's novel remains the most famous film made in Ceylon.